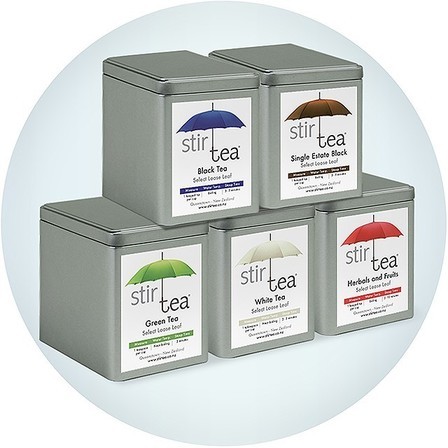 Stir Tea Caddies - Silver
Code: A-TC-1
These empty tea caddies are a really practical and attractive addition to your kitchen or pantry. Purchase Stir Tea in the cost effective bulk size resealable bags and then transfer your preferred tea leaf in smaller amounts to these tea caddies for day to day use.
The caddy measures approx: 9cms * 9 cms and stand approx 12 cms tall. The lid lifts off. They are in a matt silver colour finish and depending on the size of the tea leaf will hold around 100-150 grams (around 35 - 50 cups) .
Please note these tea caddies are sold as empty tins and do not contain any tea leaf. They are also available in matt white.
A little more on these tea caddies ...
Purchase these empty tea caddies individually for $7.00 each or select the series of five umbrella colours that make up the Stir Tea Story for $30.00. Accompany this with the Stir tea of your choice and you have a great gift for any tea lover.
The Stir Tea umbrella colours are:
Black Tea Blends - blue umbrella
Single Estate Black Tea - brown umbrella
Green Tea - green umbrella
White Tea - white umbrella
Herbal & Fruit Blends - red umbrella